Quick Stix
Learn lacrosse with this fast and fun game of Quick Stix!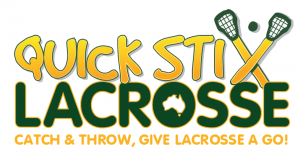 Quick Stix Challenge – Lacrosse UPDATE!
Lacrosse Victoria is launching a second new program for primary school children in Melbourne
Quick Stix Challenge
We'd love you to help spread the word among students: Quick Stix Challenge offers more game play, and more fun and fitness, but without the time commitment that junior lacrosse requires.
What is the Quick Stix Challenge?
FREE 5 week program from Wednesday 31 May
1 hour sessions 5.30 – 6.30pm
Uses plastic sticks and soft balls to develop the three basic skills (catching, scooping and throwing)
Focuses more on game play and strategy  (half skill development and half games)
What's next after Quickstix Challenge?
Kids can choose to sign up to a club's junior lacrosse team.
Younger children can play Quick Stix Challenge for one, two or three years, getting ready for when they are old enough for junior lacrosse.
Please help kids learn how to register
Altona and Newport lacrosse clubs are joining forces to run the pilot program in the western suburbs, but children across Melbourne are welcome to register. Children do not need to have done the Quick Stix Program at a club or at school. A child who is new to the game may still register, and the Altona and Newport coaches will help with extra skill development.
We have also attached an information poster for your school newsletter. If we can tell more kids about Quick Stix Challenge, we can get more kids up and running around!
By the way …
If your school isn't already running introductory Quick Stix lessons in the sport program, we can help you get started. Ask about our free Quick Stix clinics for school students.
QUESTIONS?
Call Lacrosse Victoria on 03 9682 3300 or email development.officer@lacrossevictoria.com.au
Or contact the Quick Stix Challenge Coordinator, Nicole Walker from Newport Ladies Lacrosse Club on email recruitment@newportladieslacrosse.com.au
Or check out www.quickstixlacrosse.com.au 
Click here for Information Flyer