About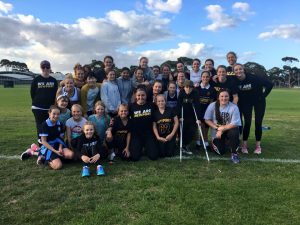 Newport Ladies' Lacrosse Club was established in 1964 and currently fields teams in State League, A Grade, B Grade, Under 15's, Under 13's & Under 11's.
Newport's long and proud history of both on and off field achievements makes us one of the most successful sporting clubs in Australia.   
With a proud history of striving for sporting success, community involvement and social activities, Newport Ladies Lacrosse Club provides the ideal place for girls and women to stay fit, maintain long and lasting friendships, develop the values and essence of sportsmanship, and the art of working within a team environment, skills that are essential for everyday life.
NLLC will always value its steep history while ensuring we continue to develop, utilising the modern methods of an ever growing global game. Whether you are a past member, current player or new inductee you are always welcome to join the family at Newport.
We all know how important it is for girls and young women to continue to participate in sport throughout their lives. We will encourage and support our girls to enable them to fulfill their own sporting and personal goals whilst having a great time.
Our home ground is at PJ Lynch Reserve, Mason Street, North Altona VIC, 3025 (Melway Ref. 55, D3) Behind Bayfit Leisure Centre.
Training is on Monday nights with Juniors from 5.30-6.30pm and Seniors from 6.30-7.30pm and Wednesday night 6pm – 7pm as a group.
Games are played on a Sunday at varying times depending on age group. The majority of games are played in the local vicinity of the club with a few games played in other areas.
The social aspect of our club is very important and we regularly have club nights with shared meals and activities. We encourage our girls and their families to join in.